Day 5 – Friday 5 July
We walked a long way through stunning Peak District countryside to Buxton, and then caught the train back to London.
Day 4 – Thursday 4 July
Today we visited Alton Towers, one of the country's top theme parks, in nearby Staffordshire.  Major attractions included Nemesis, Oblivion, Air, Runaway Mine Train, Congo River Rapids, Hex – the Legend of the Towers and The Smiler.  
After supper there was a closely-fought general knowledge quiz with questions such as 'What year was the Spanish Armada?' (although sadly the answer to that one proved elusive!)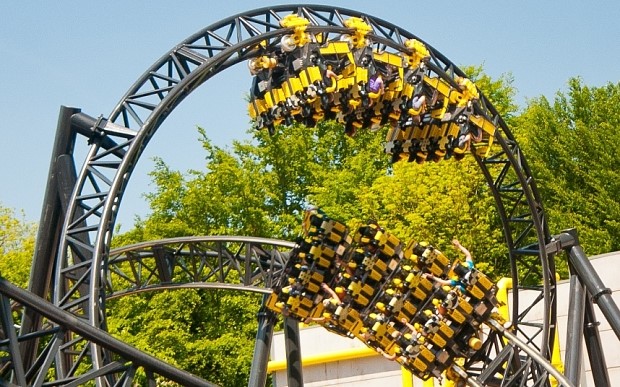 Day 3 – Wednesday 3 July
A gentler day, we walked to Bakewell in the glorious sunshine, and once there we enjoyed its Bakewell tart, or to be more accurate, Bakewell pudding, usually served with custard.  Bakewell is a delightful market town and there was also an opportunity to buy a new football to replace ours which only lasted a couple of days!
There was time for more relaxation after our return from Bakewell, including football, TV and some gentle exploring of the local area.
Day 2 – Tuesday 2 July
Today's 10 mile circular walk took us along the narrow gorge at Bradford Dale to join The Limestone Way.   Walking through Cales Dale we had lunch in the village of Monyash where there was also plenty of time to enjoy a well-deserved ice cream.
The most breathtaking views were towards the end when we walked through Lathkill Dale, stopping along the way to inspect the limestone outcrops, cliffs, birds, butterflies and an array of wild flowers.   We ended the day with a relaxing evening watching television and playing games in preparation for our visit to Bakewell tomorrow.
Day 1 – Monday 1 July
Arriving bright and early at Euston at 9.30am we boarded our train to Buxton, changing at Stockport en route.   We were met at Buxton by 'The Magic Van' which, as well as transporting our luggage to the Youth Hostel, appears at regular intervals during our walks, ready to replenish us with healthy snacks and refreshments. 
We started walking straight away and fortunately managed to avoid the worst of the rain. Our first walk took us through Buxton and Buxton Country Park to the viewpoint at Solomon's Temple which provides superb views over the area.  Continuing southwards we passed High Edge Raceway to start the scramble up and down the Dragon's Back at Chroome Hill and onto Longnor where the TV series 'Peak Practice' is filmed.
A coach then brought us back to our Youth Hostel at Youlgreave and after supper, some TV and gentle exploring of the area, it was definitely time for an early night!