The collection
The collection includes over 13,000 books and print resources, as well as 10,000 weblinks via our catalogue. Our digital collection includes 40 academic online subscriptions (digital magazines, eBooks, newspaper and journal archives, subject-specific databases and image banks). Almost all of these are also accessible remotely. Links to other libraries are also developed, from local public libraries (searchable from our catalogue) to special collections such as the National Art Library. Our membership to the London Library provides access to over a million books to support coursework, personal investigations, EP and individual interests. 
Independent study and information literacy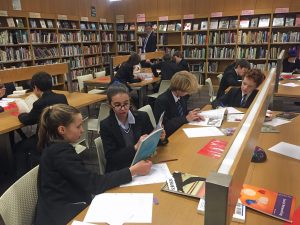 The library is the place to come for focused independent study and indeed many Sixth Form students opt to spend their private study periods here. There are just over 100 study spaces. Students are welcome to use their school device or their own laptop or tablet. We have six networked PCs for quick access, and Sixth Form students may also borrow a laptop. Printing, copying & scanning facilities are all available.
The librarians offer information literacy and digital literacy skills training. The aim is to help all students become confident and independent learners by developing their ability to find, evaluate and use information effectively.
Students in Year 7 have an induction and full training in how to: 
use the catalogue to search for resources

access reading lists and create/share favourite lists for themselves, 

maintain their own library account online (including renewing and reserving, rating and reviewing books)
The librarians also work with teachers across departments to develop students' information literacy in the context of specific projects, from Year 7 PSHCE to Year 9 Global Goals to Sixth Form Extended Projects.