Build a robot: an introduction to computer programming and engineering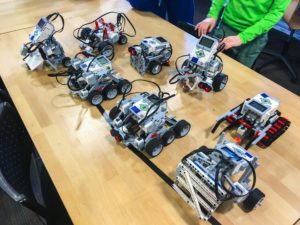 This robotics course aims to develop problem solving and lateral thinking skills, whilst applying Science, Technology, Engineering and Mathematics. This course mimics the design and engineering process used by scientists and engineers in industry today. Participants design, build and program robots, adding sensors to make them smarter and control their behaviour.  Through this practical course, they learn to apply STEM skills and concepts and develop creative thinking abilities.
Music tech workshop: the science behind music and musical instruments
This dynamic workshop reveals the science behind the design and making of musical instruments, both acoustic and electronic, and demonstrates that musical instruments are the product of sophisticated Physics, Maths and Technology.
Through a series of design and make projects, participants learn about sound and how it is produced.   They develop problem solving and lateral thinking skills through designing, constructing and playing their own musical instruments.  After completing their acoustic instrument, they learn how synthesisers and speakers work, and then make one themselves. This develops an understanding of the relationship between Maths and Science, and their importance in the production of musical instruments and devices.