Day 5 – Friday 5 July
Yesterday was our busiest day. We made a last minute change of plan as our trip to the orphanage (complete with the performance of a short play) was cancelled. This turned out to be a positive piece of news as it allowed us to include two more outings: first of these, a visit to the Shoes on the Danube Bank, a memorial statue of shoes on the East Bank to honour the Jews who were killed by Arrow Cross militiamen on the Bank of the Danube in the Second World War.
After a walk around the area and visiting the perfectly preserved late-nineteenth century Parliament Building, we headed off to an escape room (or "Escaping Room" as our guide, Eva called it). Hungary is the country where escape rooms began and we were not disappointed by our five differently-themed rooms. We all managed to avoid humiliation by escaping from our rooms within the hour.
We had lunch at the Escape Room and then set off to go canoeing, with all of our students arranged in pairs in two long boats.
The evening meal represented a departure from our routine. We had a traditional Hungarian meal at a restaurant accompanied by a live Gypsy band and dancers. Particularly fascinating amongst the instruments was the Cimbalom, a stringed keyboard that is played with two sticks.
Finally we returned to the hotel where the students performed the play they had rehearsed for the orphanage. Directed by Tilly and Fede, 'Ernie's Incredible Illucinations' was hugely entertaining and was testament to the students' commitment to this project during such a busy week.
Day 4 – Thursday 4 July
Another wonderful sunny day for exploring this extraordinary country.  Today we went walking in the Buda Hills.  We travelled up through the hills on the children's railway, a network staffed entirely by teenagers. Most of them are Hungarian – they take one day off school in ten – and they are assisted by helpers from Russia and Germany. Perhaps Latymer should set up their own transport network!  And we did some walking too…
We had a picnic on the way and numerous snacks and ice creams on the ways up and down. Then back to the hotel for supper and serious Love Island analysis.
Day 3 – Wednesday 3 July
Today we toured the city with our eccentric guide Eva, or "Little Bear" as she prefers to be known. We walked around the stunning Neo-gothic Matthias Church and the Buda Castle area. We then met Mrs Collier's father, who was, unsurprisingly a hugely erudite and entertaining guide; he gave us a highly informative tour of Heroes' Square, talking us through each of the statues of the Kings of Hungary.
After lunch, we felt we had earned a trip to the Szechenyi Thermal Baths, a series of indoor and outdoor pools of varying temperatures. A brilliant experience which was especially welcome considering the heat!
Then back to the hotel where we had dinner followed by the obligatory evening rehearsal of 'Ernie's Incredible Illucinations' which we will be performing at an orphanage
later in the week.
Day 2 – Tuesday 2 July
Today we followed up our trip to Visegrád Castle with a spot of bobsleighing. This was amazing fun as we went down either in pairs or solo. After this we went to the stunning town of Santandre for ice creams, followed by a tour around the Skanzen Open Air Museum. A very full first day.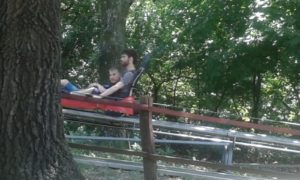 Day 1 – Monday 1 July
We arrived late afternoon on Monday, rehearsed in the park after dinner and were up in time for some of the group to go shopping with Mrs Collier for our picnic lunch.
Here's us outside Visegrád castle with the Danube behind us. Glorious!